Pharmacists are experts in medicines who can help you with minor health concerns.
You can find your nearest pharmacy here by typing in your postcode.
As qualified healthcare professionals, pharmacists can offer clinical advice and over-the-counter medicines for a range of minor illnesses, such as coughs, colds, sore throats, tummy trouble and aches and pains.
If symptoms suggest it's something more serious, pharmacists have the right training to make sure you get the help you need. For example, they may advise you to see a member of the GP practice team.
All pharmacists train for 5 years in the use of medicines. They are also trained in managing minor illnesses and providing health and wellbeing advice.
Most pharmacies have a private consultation room where you can discuss issues with pharmacy staff without being overheard, you usually do not need to pre book an appointment for this service.
Many pharmacies have late night opening hours and some are open 7 day a week. You can check your local pharmacy opening times here.
NHS prescription charges can be found here. For information about help with prescription costs and prescription charge expemptions, click here.
Most people will take medicines at some point in their lives. They can be used to stop you getting ill, control a condition or cure an illness. To make the most of your medicines, you need to:
Take them at the right times
Take them in the right way
Look out for side effects
Make sure you always have enough.
Click on the link below to see the different types of medicine, the difference between branded drugs and generics, and how medicines become available.
https://www.nhs.uk/conditions/medicines-information/
The Patients Association have produced a helpful resource here to help explain how to get the best out of your medicines:
https://www.patients-association.org.uk/understanding-your-medicines
There are various options available to patients to help with day to day management of medicines including for example, larger printed labels, easier containers to open and reminder charts. Reviews of medicines by the community pharmacist or GP can help patients understand their medicines better and possibly simplify medicines regimes so that patients can manage medicines day to day in an easier way. We know from research that many medicines aren't always taken by patients as intended. Sometimes medicines are complex to manage particularly if you are taking several medicines and for a long term condition. We therefore encourage patients to have discussions with either the community pharmacist or dispensers in order to see what options for support are available. Information for patients and healthcare professionals including a number of resources to help can be found here:
Herefordshire and Worcestershire Councils both have support services which can arrange volunteers to help with collecting and delivering individual patient's medicines. The opportunity to use Volunteer Services are outlined below and will depend upon the nature of the patient and the prescription. Council organised volunteers who are DBS checked will be specifically required for some deliveries which will be at the professional discretion of the pharmacist in the community pharmacy and the dispensary lead in a dispensing practice.
Volunteer responders should not visit the pharmacy or dispensing practice until the prescription is ready.
1. NHS Volunteer Responders
The national NHS Volunteer Responders scheme is now live. One of the four roles that the volunteers have been nationally recruited and vetted to perform is delivery of medication. Guidance on how to refer individuals is here: https://www.goodsamapp.org/assets/pdf/Guide_for_Referrers.pdf.To request a GoodSam volunteer click on the following link GoodSAM. This is not a registration process but a live request. Alternatively, you can telephone NHS Volunteer Responders on 0808 196 3646 (8am to 8pm). By submitting a first request you will automatically be registered as such to receive such services or make further requests for services.a) If requesting as an individual patient you will receive an approval link, once you have confirmed this, you will receive your login details and it may take up to 72 hoursb) If you are requesting as a health professional or Council Personnel requests from NHS/Gov email addresses go live automatically
2. Worcestershire County Council "Here2Help" service for patients
a) Patients can make a request for help via the Here2Help Website www.worcestershire.gov.uk/here2help – patients should click the "I need help" tab in the middle of the page and complete the form. They will receive a response within 48 hours; or,b) Patients, pharmacists or GPs can telephone Tel. Number: 01905 768053 (option 3) which is open Monday to Friday 9am - 5pm, and discuss the need for an appropriately qualified person to collect the prescription from the pharmacy/ dispensing practice and deliver to the patient.
3. Herefordshire County Council "Talk Community" service for patients
a) Patients can make a request for help via the Talk Community form through the link: Talk Community Coronavirus Supportb) Patients, pharmacists and GP practices can contact the Customer Services team which is open Monday – Friday 8am to 6pm and Saturday 9am to 1pm, on Tel Number: 01432 260027 or email talkcommunityhelpline@herefordshire.gov.uk if they need help with collecting prescriptions from the pharmacy/dispensary practice and deliver to the patient.
Many people do not regard themselves as carers since the term "carer" is often associated with a health professional or a paid carer but if you are supporting a family member or friend who couldn't manage without your support then you might find the following information helpful.
Managing medicines for someone else can be a challenge, particularly if they're taking several different types.
Click on the link here to see Medicines: Tips for carers which will provide you with lots of information to support you. It will also tell you how your NHS community pharmacist can help you to support the safe management and administration of medicines on a day to day basis for the person you are caring for.
Did you know?
Every year £300 million pounds of NHS taxpayers' money is spent on unused medicines that are thrown away. This is vital money that could be re-invested back into our local NHS for patient care.
Everyone has a part to play to reduce the waste of prescription medicines.
How can you help?
Check what medicines you have already at home before you re-order more.
Remember don't tick it if you don't need it! There is no need to worry, the item will not disappear from your repeat prescription. It will still be there next time you need to order your medication.
Having regular discussions with your pharmacist and GP will mean you get the right help with taking your medicines.
Next time you pick up your prescription from the pharmacy check your prescription bag whilst you are still inside the pharmacy. This means that you can return any unwanted medicines to the pharmacist. You cannot do this once you have left the pharmacy.
If everyone makes these small changes then together we can make a massive difference to reducing medicines waste and looking after our NHS.
Repeat Dispensing is a way of getting your medicines without having to ask the doctor for a prescription each time.
Electronic repeat dispensing is a reliable, secure and confidential NHS service. Unlike paper prescriptions, electronic prescriptions can't get lost between the doctor and the pharmacy. Processing fewer paper prescriptions could save the NHS £millions each year and it easier for the NHS to manage ensuring that medicine use stays safe, effective and efficient.
Your doctor will send a series of electronic repeat prescriptions to your pharmacy in one go, so there's no need for you to order them each time.
You can collect your medicines from the pharmacy at regular intervals for up to 12 months without having to contact your doctor.
Your doctor will decide how often you should collect your prescription and how long it will last for.
When you need more medicines, go back to your pharmacy. Before dispensing the next issue of your prescription, your pharmacy will ask:
have you seen any health professionals (GP, nurse or hospital doctor), since your last repeat prescription was supplied?
have you recently started taking any new medicines - either on prescription or that you have bought over the counter?
have you been having any problems with your medication or experiencing any side effects?
are there any items on your repeat prescription that you don't need this month?
If you don't need all of your prescription, let the pharmacy staff know, so that they only supply the medicines you need. This will help to reduce waste and save the NHS money.
If you're prescribed a medicine to treat a long-term condition for the first time, you may be able to get extra help and advice about your medicine from your local pharmacist through a free scheme called the New Medicine Service (NMS). To find out more, click here.
All NHS community pharmacies will stock medicines commonly used in palliative care but this list may be referenced for those pharmacies which stock increased levels of palliative care medicines. Having good and convenient access to these medicines means that patients can have the medicines at home they may need.
Please use the following links to access information on the current Sexual Health Services Providers for emergency contraception services in Herefordshire and Worcestershire.
For Herefordshire:Information can be found by clicking on the link below which also includes which community pharmacies provide an emergency contraception service in Herefordshire:
https://sexualhealthservices4herefordshire.co.uk/
For Worcestershire:Information can be found by clicking on the link below which also includes which community pharmacies provide an emergency contraception service in Worcestershire:
Community pharmacies are offering free NHS blood pressure checks to people aged 40 and over, often with no appointment necessary.
This involves around 10-15 minutes in the pharmacy consultation room with the pharmacist or trained member of staff. Following this, you may be invited to take home a blood pressure monitor that measures your blood pressure as you go about your daily life.
Depending on your blood pressure reading you may be referred to your GP practice. The pharmacist will guide you through any necessary steps depending on your blood pressure result.
Why get your blood pressure checked?
High blood pressure, also called hypertension, is a condition which can be controlled to reduce your risk of a heart attack, stroke or other cardiovascular disease.
In the UK there are about five million adults (one in every nine) who have high blood pressure without even knowing it, since high blood pressure itself rarely causes symptoms.
The British Heart Foundation estimates that high blood pressure causes over 50% of heart attacks and strokes.
What will I Learn? Blood pressure – know your numbers!
Blood pressure is the force of your blood moving against the walls of your arteries. It is expressed as two numbers, one above the other. You will be provided with your reading and understand which category you currently fit into, be provided with information which you can use to help reduce your blood pressure if it is high or maintain your blood pressure within the expected range.

Which pharmacies in Herefordshire or Worcestershire are providing the NHS Free Blood Pressure Checks Service?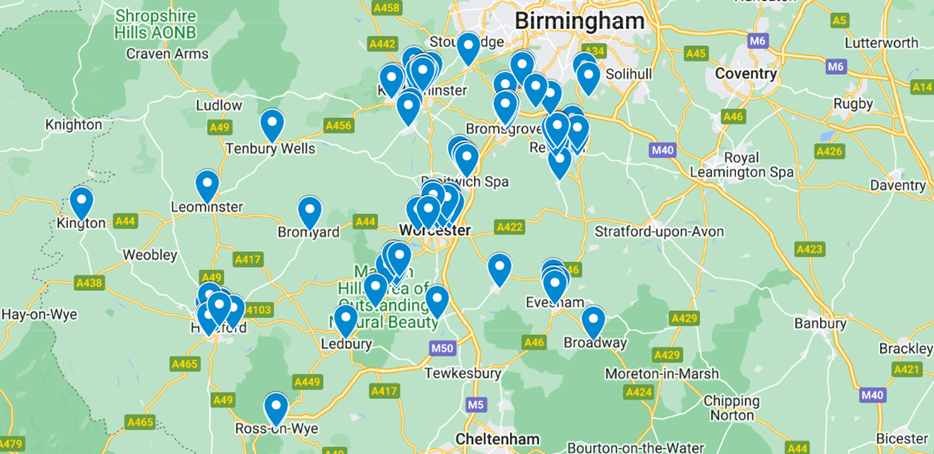 H&W Pharmacies offer BP Check Service – Google My Maps
For general healthy living and high blood pressure information visit:
www.nhs.uk/conditions/high-blood-pressure-hypertension/
www.bhf.org.uk/informationsupport/risk-factors
Please note, from 1 July 2023 the way members of the public make a complaint about primary care services to the commissioner has changed. Rather than contacting NHS England, complaints will be made to directly to the local integrated care board (ICB).
Contact details for the complaints team at Herefordshire and Worcestershire ICB are as follows:
Write to: Patient and Stakeholder Liaison Team, NHS Herefordshire and Worcestershire, Kirkham House, John Comyn Drive, Perdiswell, Worcester, WR3 7NS
Telephone: 0330 053 4356 (ask to speak to the Complaints Team)